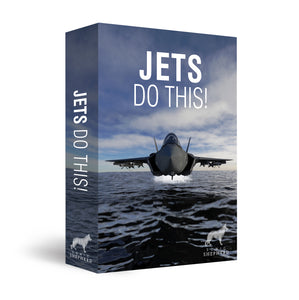 Jets Do This! Sound Effects Library
Regular price
Sale price
$199.00
---
Jets Do This! was recorded on the ocean, directly in the flight path of almost every jet included. As a result we were able to obtain close, detailed recordings as they passed by and even circled our boat. This is the largest commercially available collection of jet maneuver recordings, the first commercially available set of ultrasonic jet recordings and the first commercially available collection of F-35A Lightning II recordings. 
Every microphone we used and jet we recorded has a very specific sound, so what was "better" about one recording (or jet type) over the other would depend on what you would want to use that recording for. Attenuating midrange and boosting low end might help the sound of a particular jet to feel more powerful and polished, but you might be cutting out interesting motion and tying someones hands if they're designing or sweetening a missile, jet pack, propulsion sound, or even pitching it down for something completely different. Jets Do This! was cleaned and mastered with this in mind to have a broad range of use for sound designers.
 Here are a few suggestions:
 A-10C Thunderbolt II (Warthog) - has a unique twin turbofan engine sound that whistles and wines. Use for spaceship bys, startups and shutdowns.
 CT-114 - long steady recordings (22-45 seconds) of delicate complex swishes from this jet add a high frequency real world element to vortexes, tornados, portals, missile travel, jet packs, propulsion.
Hawk T1 - this jet also has distinctive swishes, but faster paced with stronger attacks and movements. Use this for accents or distinct motion of a missile or power.
F-16C - intense stuttered afterburners, growls, and rhythmic tears are perfect for missile launches, missile travel, magic, superpowers, or thunder sweetener.
F-35A - long steady recordings (28-91 seconds) and roaring, air ripping engines can be used as is for superpowers, vortexes, portals, rockets, propulsion, thunder, explosion sweeteners and tails or pitched way way down. (ultrasonics registered as high as 50K on MKH 8050 and 90K plus on CO-100K)
Ultrasonics of an F-35 Pitched Down:
Below is a short teaser generated from two 13 second files (recorded at the same time, using different microphones) to show what happens when you record F-35 jet ultrasonics (frequencies beyond human hearing) and pitch that information down. You can hear how easy this is to apply to explosion sweetener or thunder. The range for the long steady recordings is between 28 and 91 seconds.

A/ B Playback is as follows:

Full speed, 1/2 speed, 1/4 speed 

A) Sanken CO-100K
B) Sennheiser MKH 8050-MKH 30-MS



Included Aircraft:

A-10C Thunderbolt II (Warthog), CT-114 Tutor (Snowbirds), F-16C Fighting Falcon (Thunderbirds), F-18E Super Hornet, F-35A Lightning II, Hawk T1 (Red Arrows), T-33 Shooting Star
Bonus Aircraft:
C-17 Globemaster III, P-51 Mustang, Red Bull MXS-R Race Plane, Pitts S-1-11B Biplane, YAK-110 (2X YAK-55 plane, CJ610 Lear 24 jet engine)
Jets Do This! was recorded using a Sound Devices 702, 302 mixer, MixPre 6.
Sanken CO-100K and Sanken CSS-5 (mono files)
Neumann RSM 191, Sennheiser MKH 8050, MKH 30 MS (stereo files)
All recorded at 192kHz/ 24 Bit
428 files (7.83GB)
-Largest commercially available collection of jet maneuver recordings

-First commercially available ultrasonic jet recordings

-First commercially available collection of F-35A Lightning II recordings

-Metadata: Universal Category System
-Digital download only